Emtelle announces support of grant-giving charity Cash For Kids.
This year, Emtelle have decided to team up with the local grant-giving charity Cash for Kids to support their mission of helping the children that need it most. With an initial £10,000 donation to the charity, Emtelle have committed to raising a further £5,000 throughout the year to support Cash for Kids in the local borders community.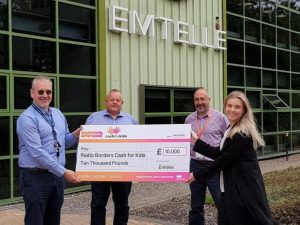 Emtelle has several manufacturing facilities across Europe, with nearly 600 employees, around half of which live and work in the Scottish borders. It is therefore important for Emtelle to support those communities and their youngsters.
Emtelle have been fortunate to continue to operate throughout the pandemic. Their teams have been vigilant, safety-conscious and protected each other throughout, allowing the business to support the increased demand in high quality, fast, reliable broadband that our changing lifestyle and remote working has demanded over the last year.
Tony Rodgers, CEO at Emtelle, said, "We are delighted to be partnering with Cash for Kids this year to support them delivering their mission throughout the borders communities. We look forward to seeing the continued good work that is done and how our donation can support their mission of supporting all children to express their individuality, achieve their potential and live life to the full"
At the core, Emtelle is a company whose product fosters connections around the world. Although global, it is important to foster those connections with Emtelle's people and the communities they operate. This drive resulted in Emtelle wanting to be a supporter of Cash For Kids, a local charity doing good for the local community.
Alice Edwards, Charity Manager at Radio Borders Cash for Kids, added: "The support that Emtelle have provided through their £10,000 donation and commitment to fundraising another £5,000 throughout the year is a huge boost to our charity. We can see the increase in demand through the number of applications we are getting in for funding.
"These are for children whose families have been plunged into poverty due to the pandemic, as well as the children who were already struggling, those with additional support needs and life-limiting illnesses.
"Without the support of Cash for Kids, these children would not be able to reach their full potential and live their life to the full."
To get involved or to make a donation to cash for kids you can do so here:
https://www.cashforkidsgive.co.uk/campaign/emtelle/